Zilveren schaal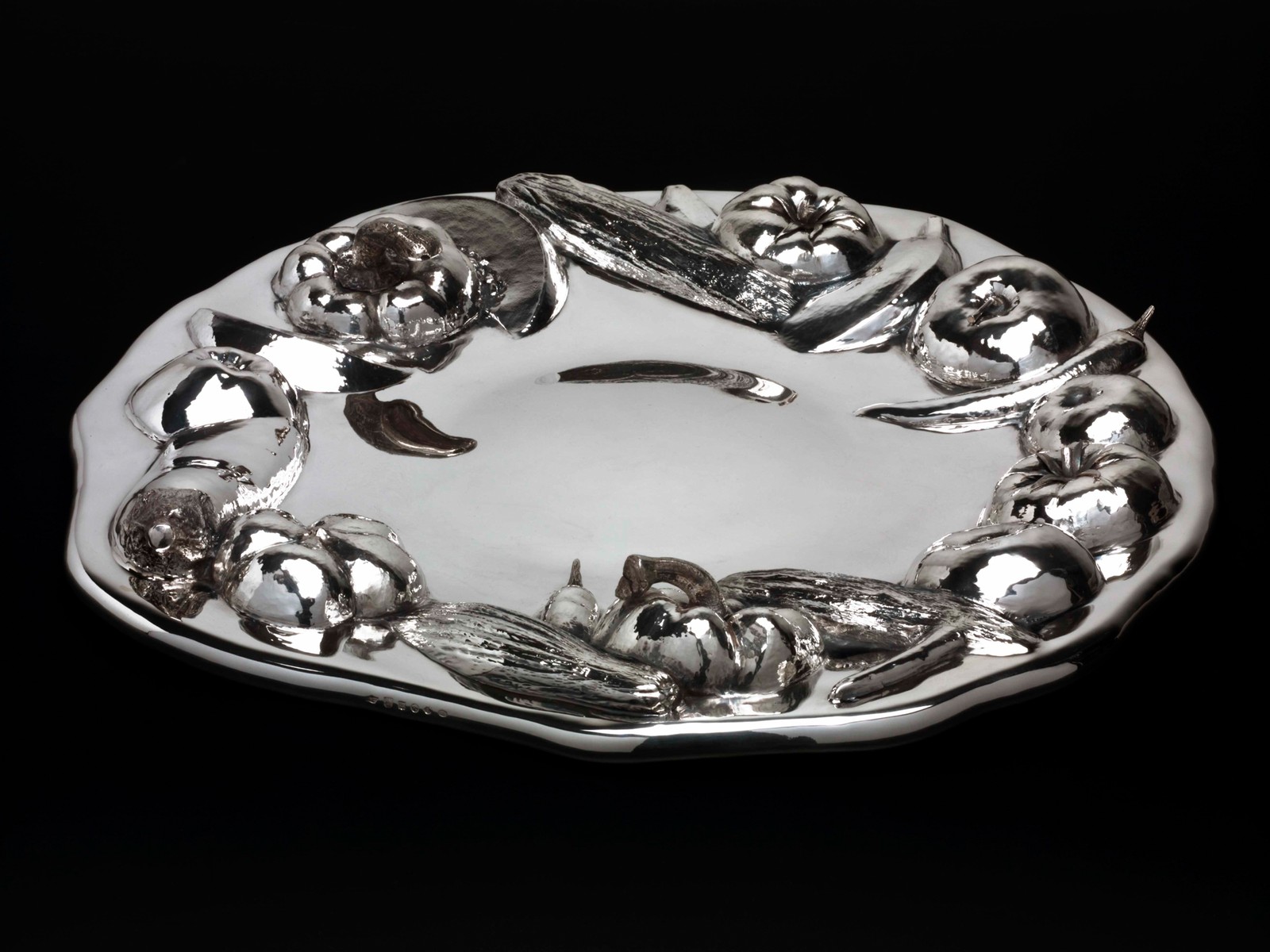 Tags corporatedesign
Disciplines gold and silver

Zilveren schaal
During the Golden Age it was a custom in our country to reward naval heroes with the most precious and skillfully crafted gold and silver works. As a contemporary expression of this custom, the owners of an international family business gave their departing director this silver platter, as a token of appreciation for the great successes he had achieved. The vegetables and fruits which 'float' in the edge of the showpiece refer to the specialty of the company: the breeding, production and selling of seeds for agriculture.
The Utrecht artist Willem Noyons conceived the idea for this design when he saw an apple floating in the Nieuwegracht (a canal in Utrecht). The different textures of fruits and vegetables and the contrast with the smooth, reflective water, would translate perfectly into silver, he imagined. Using real tomatoes, bell peppers, cucumbers, apples, red peppers, melon wedges, an eggplant and a banana, he made a composition in which it seemed as if these fruits and vegetables were partly submerged under water. A cast of this composition served as a model for the silversmith André van Loon, who took on the challenge of executing this technically very challenging design of the silver dish.
The starting point of the piece was a round, silver sheet with diameter of fifty centimeters, the largest which was available. Instead of the standard '925'-silver, it was decided in this case to use a one hundred percent pure grade because it is softer and more malleable. The required hardness was naturally obtained by processing the silver, because this compacts the molecular structure. Also, the convex shapes of the pieces of fruit and vegetables give extra strength to the entire dish.
The sculptural quality of the dish has been achieved entirely through a careful process of hammering, chasing, repoussage and embossing. Only the tomato crowns are casted and attached separately to the dish. Particular attention was paid to the realistic portrayal of the different textures of crops. There, an array of punches was used, while the rest of the dish was smoothly polished in order to imitate a reflecting water surface.
The final result is characterized by a harmonious interplay of design and technique. In its virtuosity the silver dish is in line with the mighty tradition of the Dutch silversmiths like Johannes Lutma and the Van Vianen brothers.
Silver, Diameter: 49 cm, 2009
Design: Willem Noyons
Execution: André van Loon
Photography: Erik and Petra Hesmerg
Want to know more? Contact us